Big and Small Tankards – Inwald Pressed Glass
As part of the exhibition mini series entitled The Object of the Season, the City of Prague Museum presented in the summer of 2019 a collection of press utility glass including big and small tankards produced by the former INWALD glassmaking factory at Prague-Zlíchov. The modified version of the exhibition is now available on the museum's website.

Panoramic view of Smíchov and Hlubočepy with Inwald's glassmaking enterprise compound, photographed by Jindřich Eckert, c. 1895, H 221 567.
Inwald Company was one of the largest glassmaking enterprises in Bohemia after the 1880s. It was established in 1862 by Josef Inwald (1837–1906), one of the most remarkable Bohemian entrepreneurs in glass business at that time. The year 1878, when Josef Inwald founded his first glass factory (primary glass production) at Zlíchov in Prague, was a milestone in the development of a company which ran several glass refineries (enterprises to refine hollow glass) and a significant moment in the history of glass production in Prague.
The compound was one of the largest in Europe and included hollow glass and a pressed glass factory as well as refinery facilities for glass grinding, painting, engraving, and etching. Lights, pressed utility glass, and glass souvenirs were the principal products of the Zlíchov Glassmaking Enterprise as well as blown hollow glass decorated with grinding which received many awards at international and Austrian exhibitions.
After the company's founder Josef Inwald died in 1906, his sons Rudolf and Oskar took charge of the broad company (glassmaking enterprises at Zlíchov, Poděbrady, Radnice, Velké Březno, Floridsdorf near Vienna, and Rudolfova huť) and continued its successful development. They brought the Zlíchov enterprise to the brink of the 1930s; in connection with the Great Depression it had to reduce its operations which led to ceasing operations in 1935.
Pressed Glass Big and Small Tankards
Beer tankards, pressed glass, additional inscription '1499 U Fleků 1762', 1900–1930, H 58 272.
Beer tankard, pressed glass, additional inscription 'Hostinec u České koruny ve Vokovicích', 1910–1930, H 137 962.
Small tankards for sweets, pressed glass, additional inscription 'Orion Maršner', 1910–1930, H 120 732.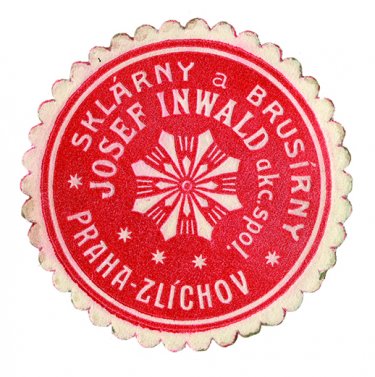 Souvenir Glassware – Cut and Engraved Tankards
Tin-mounted tankard with a glass lid, cut, engraved inscription: Fire Brigade of the State Railways in Bubny, 19 February 1887, H 54 609.
Tin-mounted tankard, cut, engraved initials F.R. and date 3 December 1893, donated by the burgher foot-soldiers to František Rezek
for his 50th birthday, H 54 548.
Tin-mounted tankard with a lid, cut, engraved initials FW and the bishop's insignia, from the estate of Bishop Antonín-Wenzel Frind,
1880s–1890s, H 35 514/002.
Tin-mounted tankard with a lid, engraved edifice of the National Theatre, 1890s, H 58 328.